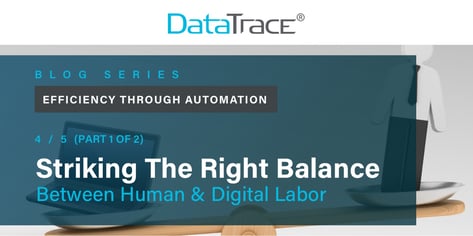 – Intelligent automation allows an organization to augment the workforce to handle spikes in demand or troughs in capacity –
If you've followed my recent blog posts, you know that I'm a strong advocate of automation and a true believer that this inevitable trend will create not only a superior customer experience but also improve job satisfaction for employees. Since automation can sometimes be associated with job losses, I realize that this last statement may sound counter-intuitive. Recently, however, I came across a study that supports these views, and had an opportunity to hear first-hand how automation is changing the nature of work at a large title company.
The study is Automation and The Future of Work by the IBM Institute, and it is based on 1,500 C-level interviews across 21 industries. Among its major findings:
90%

of executives whose companies are embracing automation believe "it creates

higher-value work for employees.

"

75%

"point to

customer experience

as the area where their digital initiatives deliver the greatest value."

79%

"expect their organizations to

out-perform the competition

in revenue growth in the next three years."
Respondents at the companies most committed to automation expect headcount will only change by about 1% in the next three years. Many employees who are part of that 1% will be redeployed into newly defined roles and responsibilities, the executives said.
The report concluded:
"By striking the right balance between human and digital labor, [forward-looking] companies can build a more flexible workforce. Intelligent automation—in the form of digital workers—allows an organization to augment the workforce to handle spikes in demand or troughs in capacity, as well as shift workers within and between industries in a dynamic market."
"Spikes in demand and troughs in capacity?" Does that sound familiar?
Real world example
USA National Title based in California recently selected our TitleIQ™ Enterprise solution as its primary title search/examination platform, and the company is already realizing significant gains in productivity, cost reduction and its ability to compete for purchase business.
With multiple offices, USA National Title leverages significant industry knowledge and commitment to their employees, along with DataTrace, to help them differentiate their service. Specializing in the high-end real estate market, the company's ability to scale helps them be equally proficient in the lower and middle real markets as well.
Part of our DataTrace Automation Suite, TitleIQ Enterprise unifies multiple search processes – automated, title plant and title production services – into a single, digitally connected search and examination solution for expedited nationwide title report production. Integrated with all leading commercial title production systems, TitleIQ Enterprise brings users closer to the data in the search and exam processes.
Here's what Nick Pappas, Chief Operating Officer at USA National Title had to say about the decision so far:
"TitleIQ Enterprise has been a strong addition to our production department, increasing productivity and reducing cost. We expect that

TitleIQ Enterprise will soon reduce our production time by as much as 50% and it has already eliminated virtually all of our word processing time.

TitleIQ Enterprise has enabled us to redeploy staff to focus on more complex orders and to reinvest savings in higher-value marketing and sales efforts to attract purchase orders."
Yes, automation is eliminating some repetitive, lower-value activities, but at the same time it is creating more meaningful work for underwriters and staffers and enabling USA National title to compete more effectively during the current business cycle.
To find out how DataTrace can help your business,
we invite you to schedule a meeting.


Check out our Efficiency Through Automation Series: