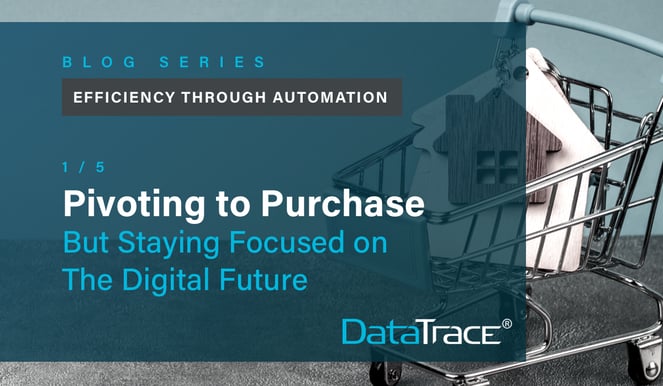 – In 2022, the dramatic shift from refinance to purchase and the overall market contraction requires new strategies as well as renewed focus on cost and efficiency –
With refinance transactions slowing, 2022 will mark a year of significant change for the title and mortgage industries. As Odeta Kushi, deputy chief economist at First American, recently observed:
"The Fed clearly faces a very unique challenge in 2022. How to tame inflation without halting the recovery, and the housing market is entering 2022 with double-digit house price growth, strong underlying demand and near record-low supply. A modest increase in mortgage rates due to tighter monetary policy may actually bring some much-needed house price moderation."
With the end of the current refinance boom in the Mortgage Bankers Association (MBA) forecast, there's most certainly a significant reduction in overall transactions in 2022. But purchase, which has lagged refinance for decades, is poised to set a new record in 2022. And if it does, the year will come in as the fourth best in housing over the last 20 years. Not too shabby.
In the short term, however, the dramatic shift from refinance to purchase, and the overall market contraction, requires new strategies as well as renewed focus on cost and efficiency. The most successful title companies are preparing to make these pivots while still progressing on longer-term goals - like digital transformation, that their customers require.
Title News, American Land Title Association (ALTA)'s official publication, recently examined strategies for title companies to consider as they shift resources to capture additional purchase business. One of the stronger recommendations: automate low-value activities and/or highly repetitive or redundant tasks to free up resources and dollars toward marketing and to better serve clients. This makes perfect sense. Efficiency gains are most easily found by machining out high volume, human tasks.
While the article didn't specify particular activities, there are some obvious responsibilities in many title shops. Think of all the time spent searching tax agency websites to try to determine current tax status. Or how much time is devoted to doing manual title searches?
Investing in Short- & Long-Term Solutions
To help title companies more efficiently compete in a growing purchase market, we've outlined our proven, focused solutions for rapid implementation in fluctuating conditions.
DataTrace TaxSource®, for example, automates the highly manual, often error-prone process of obtaining tax status information. The solution produces a single, easy-to-read report that is integrated into leading commercial and proprietary title production systems through robust API integrations.
Similarly, DataTrace TitleIQ™ Enterprise®, provides unified title search workflows, automation efficiencies, a robust examination workbench and direct integration to leading title production systems. TitleIQ Enterprise reduces common errors, standardizes workflows, enhances adherence to underwriting guidelines and allows examiners to focus on higher-value more complex underwriting activities. Over the past two years, marketing was less of a priority at many title companies that often had more business than they could handle. This approach changes in a smaller, more competitive purchase market.
DataTrace MarketView delivers instant market insights for title companies to benchmark and analyze competitive positions as well as identify strategic opportunities to protect and grow current share, take business from uninformed competitors and make intelligence-based investments that drive and enhance business development efforts.
Anticipating the future (and current) needs of the title industry, DataTrace has increased its industry-leading title plant coverage: adding more than 1,000 new plants and expanding our nationwide network to more than 1,600 title plants, covering 80% of the U.S. population. Not only more efficient for automation – but expanded plant coverage means we'll be everywhere you need us to be.
In announcing the massive title plant expansion, Annette Cotton, vice president of data and client solutions at DataTrace, noted: "The new plants leverage state-of-the-art artificial intelligence and automation technology that changes the game for property data collection going forward. These new plants have the broadest set of data attributes collected in the industry, providing the raw materials for further automated title production. As historical depth is added, these new plants will deliver even greater value to our clients. They will help us continue to provide the information, insight and confidence the industry has come to expect from DataTrace and our industry-leading network of title plants and property ownership databases."
Gaining a Digital, Purchase Edge
More recently, title companies, like their lender partners, have been automating their decisioning and production processes. These efforts can't be put on hold while the industry adjusts to short-term changing market conditions.
Forward-looking companies will continue their digital transformation, employing artificial intelligence (AI) and machine learning to enhance processes and keep pace with their mortgage clients.
To find out how DataTrace can help your business, we invite you to schedule a meeting or visit www.datatracetitle.com/marketview.
Check out our Efficiency Through Automation Series: