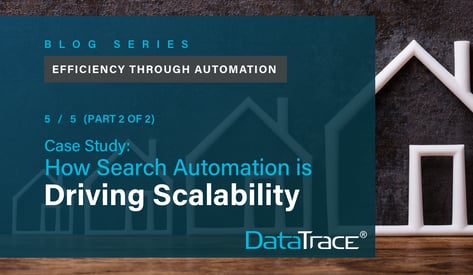 – Find out how TitleIQ Search Automation enables Proliant to efficiently scale operations and headcount… in any market condition –
In a volatile market, like the one we are all operating in now, the ability to scale—both up and down—takes on greater importance for almost every title company. But what if scalability was your core business strategy to begin with? How would you integrate automation into every aspect of your business to achieve this goal?
In this blog, we'll introduce you to Proliant Settlement Systems, a title franchising company that is using search automation to impress its clients, build its franchise business, and efficiently handle significantly growing order volumes without adding headcount. We'll hear first-hand from top management why they believe in automation and from their title production manager - who initially was a skeptic but is now a believer.
Proliant: The Back Story
Headquartered in Auburn Hills, MI, Proliant franchises title companies and provides a full range of private-label and back-office services, including title production. Founded in 2018 by its four co-founders—Michael Strat, Robert Considine, Richard Parsons and John Apostol—Proliant currently has 30 franchisees, primarily in the Midwest.
The company became a TitleIQ™ Search Automation client in 2020 and has since been able to triple its volume – going from 400 to 1,200 orders per month—without adding headcount to the title production team.
"We provide a lot of services to our franchisees, so they don't have to worry about back-office production including things like title production, escrow accounting, disbursing of funds – just about everything post-closing," says Michael Strat, president and co-founder. "Scalability is the key to delivering these services and growing our franchise business. It's one of the most important factors in any process decision that we make."
Currently, Proliant is using TitleIQ Search Automation to automate a significant portion of searches that it does in ten Michigan counties. Joann Currier, Proliant's title production manager, says that depending on the property and its location, she is able to generate a complete title search package on a refinance or purchase deal in as fast as 15 minutes. "If I had to do that manually and pull my own documents, it would take me twice, if not three times, as long. The two biggest advantages with TitleIQ Search Automation are speed and the way the information flows into our system."
Although Currier has come to see the advantages of search automation, initially she was skeptical. "It was hard at the beginning," she recalls. "Search automation was new to everyone and the idea of an order being sent out and coming back without a human looking at it was a bit scary." Her experience with other first generation AI systems also added to her trepidation. "The early systems kept getting things wrong," she says. "For example, a 'corner would come out comer.' There were always so many errors that it never seemed to be worth the time."
But over several months, Currier and her team worked closely with their dedicated DataTrace team to address her concerns and customize how the data was presented. Today, TitleIQ Search Automation is a critical component in Proliant's title search workflow.
"Heroic" Turn Times
Currier and Operations Manager Brooke Sharrard, point to TitleIQ Search Automation as one of the main reasons that Proliant has been able to cut title production turn times from 48-72 hours down to 24 hours (or less) and, if necessary, go above and beyond. "There are always a few times when a franchisee puts in a rush order saying they need it ASAP for a closing today or tomorrow," says Sharrard. "If that happens and the order is in a market where we can use Title IQ Search Automation, we can probably turn that order in a half hour or an hour because of the efficiency of the automation. And we become the hero in a lot of situations where we were able to use the platform and kick out title that much quicker."
In addition to being one of the reasons that Proliant has been able to scale, TitleIQ Search Automation has helped the company focus its resources on higher-level activities that improve job satisfaction. "We want to use people for their expertise and not for their key stroking, clicking, dragging and dropping – all of that activity that is not the best use of their brain power," says Strat. "We have a lot of really smart people and we need to let them focus on the problems that need smart people solving them. So, the processes that can be automated, need to be - and we'll continue to work to make that happen wherever and whenever possible."
What's ahead for Proliant? "We consider ourselves in our infancy," says Strat. "Some people might say a thousand or 1,200 orders a month is a lot. We view it as a small fraction of where we expect to be three years from now."
Want to learn more about DataTrace TitleIQ™ Search Automation? Watch these videos.
To find out how DataTrace can help your business, we invite you to schedule a meeting.
Check out our Efficiency Through Automation Series: