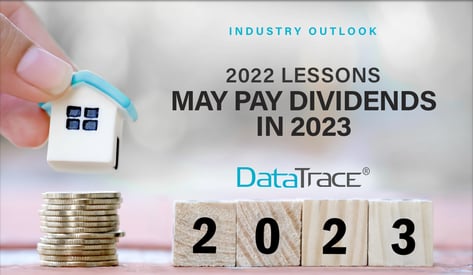 – As 2023 begins, one thing is certain: No matter what is to come, the title industry will endure and emerge even stronger and smarter. –
Everyone knows the mortgage and real estate sectors are cyclical. But knowing that didn't quite prepare us for the rapid shift in mortgage originations and home sales that occurred this year.
As the Federal Reserve tightened its policy and interest rates spiked, mortgage refinances fell sharply and new affordability issues, combined with tight inventory, impacted the purchase market. The swift deceleration left title companies, and their mortgage and real estate clients, looking for new ways to generate volume, reduce costs, protect margins and preserve relationships.
As we've noted throughout the year, title companies are resourceful, nimble and opportunistic in navigating these rapidly changing market conditions. Forward-looking clients continue to leverage technology to reduce costs, maximize resources and, at the same time, position themselves to scale when the market rebounds.
In some instances, companies are striking the balance between human and digital labor: that is, using automation to streamline some repetitive, lower-value activities. A good example of this is the experience of USA National Title. Earlier this year, USA National selected our TitleIQ™ Enterprise solution as its primary title/search platform. Their goal: cut production time by as much as 50% to differentiate themselves in a smaller purchase market. The company was also able to eliminate virtually all word processing costs, redeploy staff to focus on more complex orders and reinvest savings in sales and marketing.
Other clients are focusing on different pain points in the title process, for example, how they secure tax information. They're eliminating the need to play phone or web-tag with the more than 23,000 tax agencies in the U.S. and reducing the possibility of errors by moving to our TaxSource™ solution.
The return of home equity lending was another big story this year, and one that we expect to continue in 2023. As rising interest rates made cash-out refinancing less viable, both lenders and homeowners rediscovered HELOCs. Title companies found new ways to deepen relationships with banks, credit unions and mortgage companies as these lenders ramped up their home equity lending programs. In some instances, they did this by leveraging DataTrace automation to expedite title and tax information that reduces risk and enables lenders to deliver a superior customer experience. Meanwhile, other clients worked collaboratively with lenders to help clients identify and prioritize the best home equity prospects.



What's ahead?
The big question, of course, is what will the Federal Reserve do next? At this point, it is too early to tell. But the Mortgage Bankers Association's latest forecast suggests that originations will continue to drift down slightly in 2023, going from $2.2 trillion this year to $2.0 trillion in 2023. Some economists believe there could be a market uptick in the second half of 2023. They point to the nationwide shortage in housing and continued strong demand from Millennials, and they note that even though rates have risen dramatically this year, they are at or below the long-term, historical average.
I recently heard Marci Rossell, former CNBC chief economist and co-host of CNBC's Squawk Box, summarize the current market as "three years in two," saying that the majority of transactions we expected in the current market actually occurred somewhere in 2020 or 2021. So, in effect, we squeezed all the volume that otherwise would have been spread over three years into just two. As a result, even though we're seeing reduced activity, it's not out of the question to expect a possible uptick in activity in 2023.
Whether or not this comes to pass, here are some

trends we expect to see in 2023 and beyond.
Lenders and title companies will focus on fewer, stronger, better partnerships. This will allow them to navigate the current volatile market and be in a position to scale when market conditions normalize. These partnerships will be based on the ability to deliver measurable value to improve efficiencies, increase cost savings and maximize marketing efforts. As the only provider of both title and property data, DataTrace continues to invest in expanded data capabilities, increased coverage and product development to be a strong partner to our customers.
Automation and digital transformation are here to stay. When the next market cycle arrives, title companies will successfully scale using automated platforms, like our TitleIQ™ Search and TitleIQ Enterprise. What you won't see is title firms relying on manual, paper-based processes. Forward-looking firms are already using this rebalancing market to focus on their infrastructure. Many will have migrated to a single-seat environment by the time the market rebounds.
Leveraging outside providers will also be an attractive strategy going forward. The painful experience of reduced transactions suddenly increasing will prompt many title companies to focus on sales and customer service, and shift production, and cost, to national platforms, like our Title Production Services.
As 2023 begins, one thing is certain: No matter what is to come, the title industry will endure and emerge even stronger and smarter.


Keep your business strong in 2023 with DataTrace.
Schedule a consultation >