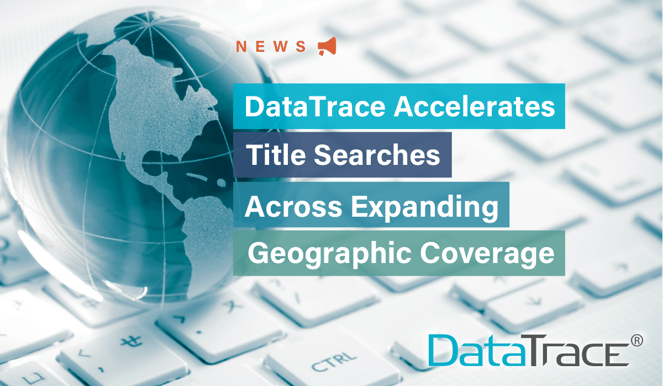 – Greater speed and cost efficiency in the title search process helps title companies meet market demand, gain new opportunities and support a quicker, simpler real estate transaction – across new geographies. –
DataTrace expanded its automated search and digital title production capabilities to include even more of the largest and most populous counties across the U.S. Given digital title searches are significantly faster and more cost efficient than manual searches, the expansion greatly improves the speed and cost with which title searches can be conducted and/or delivered.
The extensive geographic coverage of DataTrace services, combined with its state-based local expertise, enables title companies to meet the demand for greater speed in the title search process and supports a quicker and simpler real estate transaction – across a much larger area of the country.
DataTrace TitleIQ™ Search Automation now covers nearly 45% of the U.S. population, across approximately 130 million U.S. properties. TitleIQ Search Automation enables clients to move to a single-seat title search model, allowing them to scale their volume and focus underwriters on more meaningful tasks, without losing quality. The platform automatically pulls the property and general name indexes, analyzes the chain of title, and tags the appropriate images – based on customizable business rules – to produce a complete search package in an average of 10 minutes.
DataTrace Title Production Services (TPS), the company's outsourced title production unit has 100% coverage of U.S. properties, via either digital or manual title searches. TPS has now nearly tripled the number of counties in which it is able to provide digital, online searches. The expanded coverage includes more than 80% of U.S. properties, reducing turn times to minutes and providing search packages at a more competitive price point than with ground searches, which will still be available in smaller, rural counties with less digital access.


Schedule a consultation to learn how we can help your business enter into new geographies, tailored to your business goals.