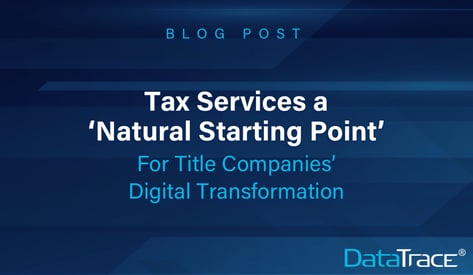 - Tax Services are a Natural Starting Point for Title Companies' Digital Transformation -
Recently MortgageOrb spoke with Alan Martin, VP, Product Management, DataTrace to discuss the importance of digitizing and automating property tax information. Check out the featured article:
MortgageOrb: The title industry, like every part of the real estate finance ecosystem, is being challenged to digitize and standardize its processes. What are some of the more manual processes that should be addressed?
AM: Any title search or recorded document function that currently involves collecting data elements, either from a screen or from a hard copy format, that then need to be re-keyed into title production workflow systems is a good candidate for digitization. Digitizing these functions reduces the risk of keying errors and omissions during the transfer and often provides more consistent and reliable data overall.
A more digital workflow process frees up your workforce for roles that require deeper analysis and expertise, allowing staff to focus on higher-value work and reduce the time spent searching for data and then transferring it into the appropriate systems and forms.
Sourcing property tax status information, which is required in virtually every title transaction, can benefit from digitization and standardization. The value proposition is straightforward: it saves staff time in identifying the right tax agencies and acquiring the necessary data. Because that data is presented in a standard digital format, not a screenshot or a hardcopy, the final results can be fed directly into your system, where it's reusable and transferable. So, it's a natural starting point for any digital transformation effort that a title company or lender might be considering.
MortgageOrb: In securing property tax information, what are the most challenging processes to deal with and why? Do you see this changing? And if so, how soon?
AM: There are two major challenges when it comes to property tax data. The first is the varied methods of procuring or obtaining it, which can include mail-away requests, faxes and phone calls, searching tax websites, and purchasing data files. Tax agency websites have evolved in many respects, providing easier access and more information that is easier to consume, but many still require a very manual process to pull the necessary tax information. With each year that goes by, we're finding that the data that's available from tax agency websites is improving and that is enhancing our ability to acquire and then bring the data into our systems in a more automated fashion for more efficient data consumption.
Second, sourcing property tax information entails identifying and engaging with the right tax authorities: a universe that includes more than 3,000 counties and approximately 24,000 taxing agencies. Often these tax authorities provide their tax data in different formats that need to be standardized, reformatted and presented in a consistent manner before the data can be loaded into title production systems to enable data analysis and interpretation.
MortgageOrb: Obviously, automation takes time and cost out of a process. What are some of the other benefits that accrue from standardizing how property tax information is consumed?
AM: Enhancing efficiency and reducing costs are the primary drivers of automation, but the accuracy, reliability and consumability of the data are important to consider as well. When you are reviewing tax information in multiple formats, the risk of misinterpretation by a reviewer increases. That's where the expertise of a proven, national tax data company comes into play. First of all, a company, like DataTrace, can secure the tax data, regardless of the jurisdiction. Standardizing the way that data is presented reduces the risk of misinterpretation in the review process. Because we have tax experts who know the requirements in every state, county and taxing authority, your staff can focus on other priorities.
So, digitizing the process and sourcing your tax information from a single, proven, national tax data supplier can enhance the accuracy, currency and reliability of your data. In the end, you save time and reduce cost.
MortgageOrb: Five years from now, how automated do you think property tax reviews will be? Who will be (or already are) the first adopters?
AM: That's a tough question because it involves both supply and demand. On the supply side, I believe automation will likely be incremental in nature, given the number of tax agencies and their varied approaches to providing data. For the foreseeable future, certain tax agencies will require more labor-intensive processes than others. But over the past 10 years, there's been a real movement to enhance county and tax websites, so they can provide more complete data that can be utilized for tax reporting. In the past, many tax agencies would often provide a tax status, but tax bill detail wasn't always available. Over the next five years, I think counties will continue to make available more data that can be consumed in a way that supports greater automation.
Choosing a tax provider that has the experts and the expertise is critical. So, whether it's automated or manually sourced, your provider must have the ability to bring both types of data sets into a standardized form that has been validated multiple times prior to transmitting curated data to a client.
On the demand side, larger title companies are quickly moving to automated transmission of tax data directly into their production environment. We're also working with all the major production systems to enhance our integration hooks, so they are complete and seamless. Smaller title shops with proprietary APIs will incrementally move to a direct integration over time or, potentially, move to larger title production systems to gain the full benefit of automation.
Start your transformation today.