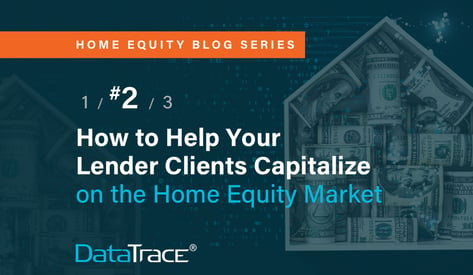 – With home equity at an all-time high, title companies are perfectly poised to help their lender clients gain a competitive advantage with tools that allow them to quickly pre-qualify existing customers, expedite lending decisions and deliver fast, cost-efficient closings. –
Home equity lending remains hot and industry predictions indicate an active market for the foreseeable future as recent homeowners look to tap the record home equity wealth they've gained over the last few years. Lenders are already pumping resources into marketing efforts to increase their home equity and home equity line of credit (HELOC) sales activity.
To be successful in the new home equity lending environment, lenders have to be prepared to quickly pre-qualify existing customers, expedite lending decisions and deliver fast, cost-efficient closings. Unlike first mortgages, lenders won't be able to pass on most, and in many cases any, of their origination costs. So, they must be uber-cost conscious, while at the same time taking prudent steps to reduce risk. And once again, title companies are in a great position to help lender clients gain ground with smart loan fulfillment strategies.
DataTrace® provides title companies a comprehensive home equity solution suite they can offer their lender clients with examined and non-examined title products and the nation's most accurate data. Various title search functionality and delivery options – including directly into title production platforms – let lenders select the tools that best fit their specific risk tolerance and the customer experience they want to offer.
Speed Counts…But Not at the Expense of Accuracy
For title search production and data extraction, speed is obviously a critical factor, but not to the exclusion of data accuracy. Title companies can increase their value to their lender partners with DataTrace's TitleIQ™ Search Automation which delivers the industry's most complete and accurate title and property searches within 10 minutes. From current owner to full title searches, the advanced title package includes property and general name indexes, an analysis of the chain of title and tags for appropriate images.
The Right Data for the Right Deal, Delivered the Right Way
With DataTrace's nationwide title and property reports, lenders not only have full access to data and insights for efficient and faster closings, they have the flexibility to customize search reports with added-value features.
The Current Owner search, for example, shows all open mortgages, liens and encumbrances with current ownership vesting names and a recordable legal description. For maximum processing efficiency and costs savings, lenders can select the Rapid Legal and Vesting report option which delivers fully automated legal & vesting reports within 30 minutes to 2 hours in key markets with full integration capabilities.
For high-dollar or high-risk home equity loans, the full title search provides statutorily compliant results delivered via a standard ALTA template.
Additional title production services that can make a significant difference in operational and fulfilment efficiencies include property tax reporting through DataTrace TaxSource™ which provides real-time tax data and reporting, and a best-in-class Automated Valuation Model (AVM) that offers the industry's largest and highest quality database of national property information.
Lenders that take an aggressive stance to be the first and best in home equity lending will reap the rewards, and title companies are in a perfect position to provide the right tools to help their lenders be the first and the best.
Keep your lender client relationships strong when market share is competitive. Explore how.


Check out the DataTrace Home Equity Lending Content Series: