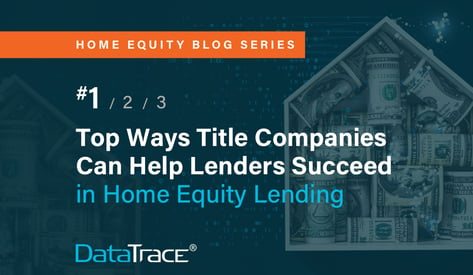 – With U.S. home equity at a record high of $29 trillion, it's time for title companies to help lenders identify qualified prospects for home equity lending, and deliver fast accurate title checks at scale nationwide. –

The $29-Trillion Dollar Storehouse of American Housing Wealth
The Federal Reserve recently reported total U.S. home equity reached a record high of $29 trillion. The New York Times further adds that $6 trillion of this equity growth accumulated in the past two years alone - spurring lenders to offer ways for homeowners tap into their vast housing wealth. Title companies are being asked to help their clients—particularly banks and credit unions, as well as some mortgage banks—find efficient and accurate solutions to help facilitate and accelerate home equity lending. With rising mortgage rates and declining purchase affordability, home equity is one of the few opportunities to help lenders offset their declining first mortgage volumes.
Building the Pinpoint Marketing List of HELOC-Eligible Homeowners
Many lenders are refocusing their marketing efforts on home equity candidates. Identifying properties with lendable equity and little risk of title impairments can enhance the cost-effectiveness and efficiency of a lender's marketing activities. Many lenders may have already asked their title and settlement providers for help identifying home equity line of credit (HELOC)-eligible homeowners - both inside and outside their loan portfolios. With over 1,600 title plants, covering 80% of the U.S. population, and a variety of technology solutions designed for every housing data need, DataTrace has the property and ownership data and powerful tools to help title companies build a targeted list of HELOC-eligible homeowners for their lender clients. DataTrace's TitleFlex™ platform identifies a precise list of eligible homeowners based on equity ranges, mortgage types, length of ownership, home values and much more. It's the perfect build-from-scratch, precision list tool.
What About Borrowers Already Inside the Lender's Loan Portfolios?
Many lenders also want to quickly mine their own loan portfolios to identify HELOC-eligible homeowners. DataTrace's Advanced Data Solutions supplements the lender's existing file with additional data to help instantly identify eligible borrowers. Based on a lender's portfolio list, DataTrace match & appends tailored data to deliver instant answers, including automated property valuations, mortgage information, homeowner insight, document images and loan-to-value calculations. DataTrace delivers this data and insight customized to lender-specific guidelines nationwide.
Delivering On What Title Companies Need - Every Time
Once HELOC-eligible clients agree to a lender's offer, DataTrace helps vet the borrowers appropriately. Whether current owner searches, legal and vesting searches, automated property valuations, property tax reporting or full title searches (with supplemental errors and omissions wrapper for coverage up to $500,000) for high-dollar lending, DataTrace helps title companies deliver on HELOC title checks quickly, accurately and securely.
Home equity lending - and title verification - are enormous opportunities that may last for years to come, providing a strong opportunity for growth. Title companies are perfectly poised to fuse their lending client relationships by accelerating the shift from home originations and refinances into home equity lending.
Keep your business relationships strong when market share is competitive by helping to identify home equity opportunities today. Explore how.
Check out the DataTrace Home Equity Lending Content Series: