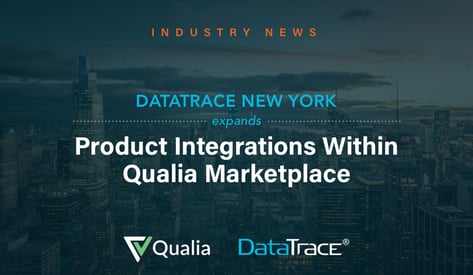 – Integration allows Qualia Marketplace users direct access to DataTrace New York products and services –
DataTrace is expanding its services on Qualia Marketplace in the state of New York. This regional New York-market expansion includes 30+ new product offerings, including standard title searches and readings, tax searches, municipal searches, New York state corporate and UCC services, and other local products.
With this new integration, Qualia users can order the company's full suite of due diligence solutions through Qualia Marketplace, track orders in real-time and communicate directly with DataTrace experts on a secure portal. Qualia users benefit from convenient order entry, reduced transcription errors, time-saved through automated data entry and overall confidence through DataTrace products.
"DataTrace in New York is the local market leader and as Qualia continues its growth in the northeast market, our mutual customers will benefit from increased efficiencies and streamlined order processing," said Chuck Mauro, DataTrace Vice President, Northeast Operations. "Given title insurance premiums are fixed, time is a significant commodity, and this integration saves its users minutes on every transaction. The elimination of potential transcription errors ensures there are no costly delays in processing this time-sensitive work."
For more information, please visit https://www.qualia.com/integrations.
To find out how DataTrace can help your business,
we invite you to schedule a meeting.