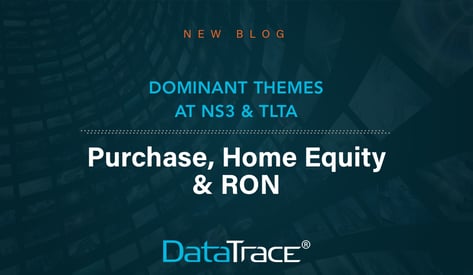 – As the title industry pivots to purchase and home equity, Ben Bellomo shares his on-site takeaways from this year's NS3 & TLTA conferences –
Now that I've had some time to decompress, I'd like to share some observations and takeaways from the two recent industry events that I attended in June: October Research's National Settlement Services Summit (NS3) in Orlando and the Texas Land Title Association Annual Conference (TLTA) in Forth Worth.
Let's start with the overall vibe. Both events were definitely upbeat, the attendance seemed strong, and it felt like things were returning to normal. The conferences, in my opinion, were markedly busier and there were higher levels of engagement and enthusiasm.
At NS3, there were a couple of recurring themes. The first was how to pivot to purchase or equity lending to try and replace the steep drop off in refinance title orders. Will it happen? More on that below. Regardless, title companies wanted to know what vendor-partners, like DataTrace, can do to help them succeed in this market.
The growing share of all cash offers was another topic that came up repeatedly. There was a general agreement that more automation in the title search and production processes could accelerate decision-making and enable lenders and title companies to compete more effectively to support cash transactions.
The title companies I talked to were looking for tighter integration of data and solutions into leading title production platforms, like SoftPro and Qualia. They were also interested in learning about new ways to consume data and products, like the DataTrace Digital Gateway that gives clients a single API integration with all of our solutions.
With order counts down, title companies now have the bandwidth to explore these options. But I would definitely not categorize that as a "silver lining."
Home Equity Re-emerging from the Shadows
If purchase was the leading topic in almost every discussion, home equity was in the "pole position" right behind it. HELOCs, for those lenders that can originate them, are an obvious replacement for some of the refinance drop off. Home price appreciation is red hot, and the average homeowner now has more equity than at any time in history. But they don't want to refinance their 3.5% mortgage at 5.5% to tap it. So HELOCs and second mortgages, which for years have been overshadowed by cash-out refinances, are suddenly on every lender's product roadmap.
The title companies understand this and are looking for streamlined, cost-effective solutions for home equity. Getting this combination right is critical because HELOCs tend to be no-cost-to the-consumer, low margin products.
Given the huge share of mortgages that have been refinanced in just the past two years, using data that many title companies already have access to is probably part of the answer, and it is certainly something that DataTrace can support.
In addition to property and lien data, there was also interest in ancillary products, like AVMs and fraud solutions that title companies could package and deliver to their clients.
Switching gears: Remote Online Notarization (RON) was the subject of a number of presentations, suggesting that this solution is here to stay and was not just a work-around during the COVID quarantine. The rivalry between RON providers and traditional notaries was on full display at the conference and in the exhibit hall with one side arguing the value of speed and technology and the other emphasizing the need for human touch and process facilitation.
Last but certainly not least, the high point of the conference for me was seeing my colleague, Annette Cotton, receive the October Research Innovation Award.
Anyone who has ever met Annette, knows no one deserves this recognition more. Annette and her team of more than 150 data experts have developed proprietary new methods to acquire data, as well as new tools to help title companies search more efficiently. To date, the team has received more than 20 patents for its OCR and data collection technologies.
Last year, the technology developed under Annette's guidance enabled DataTrace to add more than 1,000 new title plants, expanding the company's title plant network to more than 1,600 plants.
Is Texas the Exception?
TLTA Annual occurred later in June, and by that time concern over the Fed's anti-inflation actions was prompting some speakers and attendees to talk about the possibility of a recession. Interestingly, the buzz at the conference was that if a recession did come, Texas would be insulated from it, given its continuing gains in both population and business relocations, as well as its ongoing housing shortage. Fortunately given these factors, Texas has continued to see strong purchase demand, where other parts of the country have started to see a little bit of waning.
Didn't have a chance to catch up with us at the shows?
Meet with our team of experts.