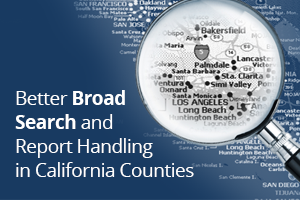 A fast and improved Broad Search is now available to customers who access California counties. The days of: enter a search, oops! Too many results, apply a filter and search again are over. Now, you can just enter a single search and retrieve all the data you need.
You now have the option to send or export a large report as a single attachment or you can choose to break up the report into multiple attachments for easy email and export.
Improved Broad Search and Report Handling are immediately available in these California counties:
These enhancements are automatically enabled for customers with access to these California counties:
Imperial
Kem
Sacramento
San Francisco
Santa Barbara
Ventura
Alameda
Contra Coast
Hawaii
Los Angeles
Orange
Riverside
San Bernadino
San Diego
Have questions? We are here to help. Contact Your Title Sales Expert or Client Services @ 800.221.2056
Better Broad Search and Report Handing in California Counties.
Two More Ways Data Trace is Helping To Take Your Title Production Beyond Where It Is Today.