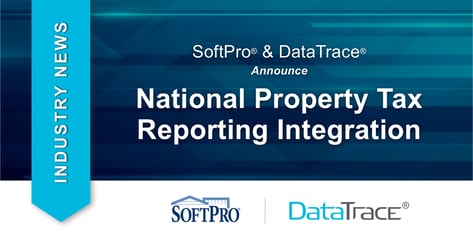 – DataTrace's TaxSource™ solution is now integrated into the SoftPro 360 business exchange portal. With this integration, SoftPro users have automated access to national tax status reporting in addition to DataTrace fully managed Title Production Services (TPS) and regional tax information and certificate services, all in one platform. –
SoftPro® users can place DataTrace TaxSource™ report orders and receive the most recent tax status data directly in SoftPro. The integration reduces time-consuming data entry and improves efficiency and accuracy.
TaxSource delivers nationwide property tax data at the city and county level, which undergoes rigorous validation and standardization to consistently report accurate tax data regardless of jurisdiction.
Patrick Hempen, SoftPro chief customer officer, stated, "We are pleased to provide the integration with DataTrace TaxSource for expedited ordering and delivery of property tax reporting. Providing one-time data entry improves accuracy and efficiency for our customers."
"The integration solves the challenges of managing in-house tax searches and multiple regional vendors, providing all the title and tax data SoftPro users need, the way they need it -- directly into SoftPro", said Chris Flynn, DataTrace vice president of product and strategy. "Title professionals want instant access to nationwide tax reporting with the most current tax status and we are excited to deliver the enhanced efficiency and accuracy of DataTrace TaxSource to SoftPro users."
To learn more about DataTrace TaxSource, please visit: www.datatracetitle.com/taxsource.