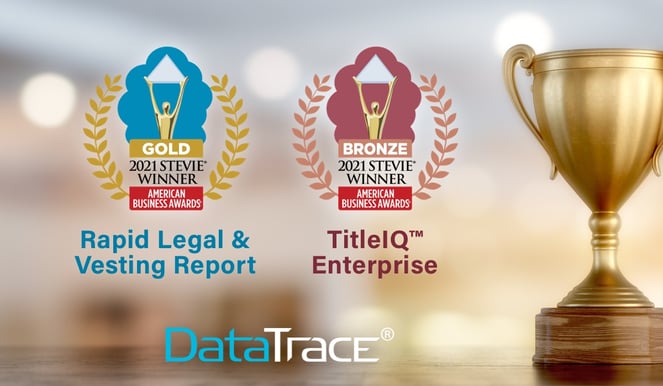 DataTrace ® is proud to be recognized as a Gold and Bronze Stevie Award winner in the 19th annual Stevie® Awards program, specifically in the 2021 American Business Awards technology solutions category. The American Business Awards are the U.S.A.'s premier business awards program.

Our Rapid Legal and Vesting Report is recognized for supporting lenders and title insurance firms by harnessing artificial intelligence (AI) and optical character recognition (OCR) to drive workflow improvements through a single aggregation platform, TitleFlex™. The Rapid Legal and Vesting Report delivers the legal description from a property's last full-value transfer and the vesting information from the most recent deed.

TitleIQ Enterprise is recognized for its nationwide title search and examination capabilities in a single platform. Powered by the industry's largest title database, TitleIQ Enterprise delivers an efficient, automated process to produce title reports through a unique combination of nationwide data sources, unified title search workflows, robust examination and automation efficiencies that are directly integrated into leading commercial title production systems.

"We are honored to be recognized as a Stevie Winner for the fourth consecutive year," said Robert Karraa, president of DataTrace. "The recognition of both our Rapid Legal & Vesting reports and TitleIQ Enterprise solution speaks volumes of our continued commitment and investments to deliver next-generation technology automation and unmatched data quality to the title and settlement services industries," said Robert Karraa president of DataTrace."
________________________
What's a Stevie Award and why is it important?

Honoring organizations of all types and sizes and the people behind them, the Stevies recognize outstanding performances in the workplace worldwide. Stevie Awards competitions receive more than 12,000 entries each year from organizations in more than 70 nations.

Nicknamed the Stevie for the Greek word meaning "crowned," all organizations operating in the U.S.A. are eligible to submit nominations – public and private, for-profit and non-profit, large and small.
In this year's American Business Awards competition, more than 3,800 nominations – a record number - from organizations of all sizes and in virtually every industry were submitted this year for consideration. More than 250 professionals worldwide participated in the judging process to select this year's Stevie Award winners. Stevie Awards are conferred in eight programs: The American Business Awards®, the Asia-Pacific Stevie Awards, the German Stevie Awards, the Middle East & North Africa Stevie Awards, The International Business Awards®, the Stevie Awards for Women in Business, the Stevie Awards for Great Employers, and the Stevie Awards for Sales & Customer Service. The Stevies also produce the annual Women|Future Conference.

Maggie Gallagher, president of the Stevie Awards said, "The American economy continues to show its resilience, and as we're poised on the beginning of what should be a phenomenal period of growth, we celebrate the remarkable achievements of a wide range of organizations and people over the past 18 months," said Stevie Awards president Maggie Gallagher. "This year's Stevie-winning nominations in The American Business Awards are testament to the ingenuity, the commitment, the passion, the adaptability, and the creativity of the American people."

More about The American Business Awards and the complete list of 2021 Stevie winners are available at www.StevieAwards.com/ABA.