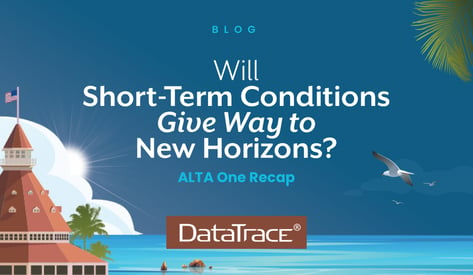 – There was an air of optimism at this year's ALTA One conference in San Diego driven by robust attendance for the first all in-person event in three years, and positive predictions for longer-term market opportunities. This year's event, with the theme of New Horizons, drew roughly 1,100 attendees, far exceeding 2021 attendance at 737 and almost matching 2019 attendance. The big crowd gave the event an energy of its own and seemed to signal that the pandemic might be behind us. –
It's clear from both the speaker presentations and anecdotal conversations at the event that opportunity is alive and well albeit current market conditions. Without further ado, here are my event takeaways, including potential business opportunities and some of the other issues looming on the horizon for the title industry.

a shift to fewer, stronger provider relationships creates a strong support system with advanced technology & services to drive profitability and create resilience in any market.
As the market resets, the opportunity for businesses to examine their own technology infrastructure and processes is critical. Proactively evaluating your partnerships and leveraging the best providers' technology and experience can help unlock new opportunities. In addition, streamlining your providers, with an emphasis on those that can deliver measurable value, can be a powerful tool to improve efficiencies, increase cost savings and maximize marketing efforts.
At ALTA One, many conversations included the need for a provider who has accurate and timely data to gain market intelligence – in fact, we were pleasantly surprised to see the number of requests for our MarketView data and reporting. MarketView delivers instant market insight for title companies to benchmark competitive positions and identify strategic opportunities and trends to drive business decisions. Title companies are using this data to identify the top players, understand their position in the market, identify new opportunities, and create new relationships.
While some providers may be contracting and pulling back, at DataTrace we're continuing to invest in expanded data capabilities and coverage, and product development to be strong partners to our customers. The economics are compelling when you work with one strategic partner that can provide property data, plant data, search automation and a multitude of other data services that give the customer more buying power.

Search automation & single-seat migration has become even more important with an increased focus on process efficiency.
There were a number of conversations about the importance of search automation which mirrors what we're hearing from a lot of our customers who have been increasingly focused on improving their infrastructure. There's a renewed interest in shoring up automation efforts now so that systems are working efficiently when the market normalizes. The wisdom of moving to single-seat migration to do more with less was another much-discussed strategy.
There was also renewed interest in leveraging outsourced services, such as processing and production. Title companies that use our Title Production Services can have a national solution for managed services as well as a fully examined product. It's like having your own internal title examining department. We have the resources and the expertise to expedite the search and exam work for you, with easy integration and at scale.
The topic of outsourcing also came up in discussions about the anticipated uptick in foreclosures and REO sales. If this comes to pass, investors will be looking for bulk title work on large portfolios. Rather than pass on these opportunities or attempt to scale up quickly to handle the volume, title companies can use our national Title Production Services and preserve relationships with investor clients.
All in all, it was a good conference with a few main takeaways - stay focused, leverage technology and relations, identify key strategic partners and keep your eyes on the horizon.
There's something to be said about leaning into the current environment with confidence and taking advantage of opportunities while things are slow in order to hit the ground running when they speed up.
Schedule a consultation with our experts to learn how DataTrace can help you succeed in all markets.