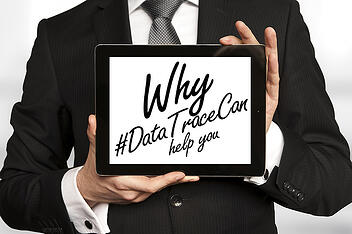 If you follow Data Trace on Twitter, you may have noticed that Data Trace has started using a new hashtag in our daily social media posts. We use the hashtag #DataTraceCan to share with you that we have the answers to the challenges you may face in your title production and title business.
The #DataTraceCan hashtag originated from a Title Search Analysis research study that was recently conducted. We gathered a lot of information of our customer needs and desires when conducting a title search, retrieving an order, or receiving information from a title search. After discovering the needs and concerns of our customers, we found out how satisfied they are with our current process and the various ways we may improve.
As a result, many improvements have already been made, so now we post daily about the needs our customers have and how yes, # DataTraceCan indeed address them.
Let us help you… we have the answers to your questions, the solutions you need, and the fixes to your problems.
Trust our title data. Trust how #DataTraceCan help you go beyond where your title business is today.